Get in touch!
Call us on 0330 22 333 22 or email theteam@inflecto.co.uk
3 month free trial
Easy to setup, brand & manage.
Easy for customers to use & repeat orders.
Assisted Setup
Simple flat pricing.
Advanced receipt routing.
All online.
Your Message Has been sent we will get back to you very soon.
We seem to be having a problem sending your message
email us directly theteam@inflecto.co.uk or call us on 0330 22 333 22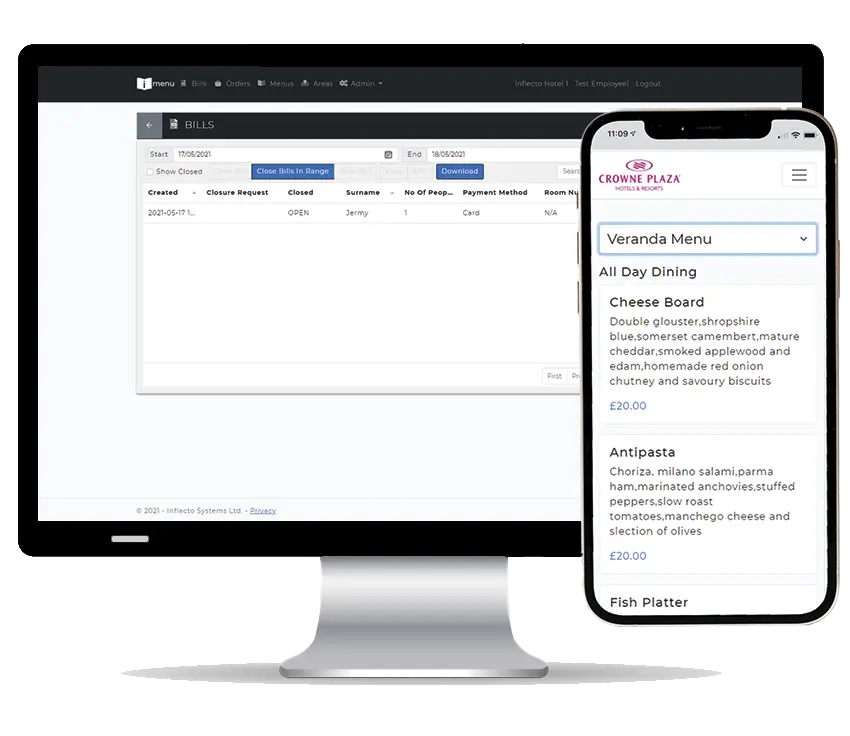 It's 2021 – make your life easier and take ordering online. No queues, no calls, no problems.
COVID has changed the world and created opportunities to rethink how we do things.
Your customers now prefer ordering on their phone for maximum convenience but don't want to install an app to get a pint.
We created I-Menu to make life easier for your customers and business better for you.
Since Covid, QR codes are now widespread and we use these to give your customers an app like experience without all the hassle.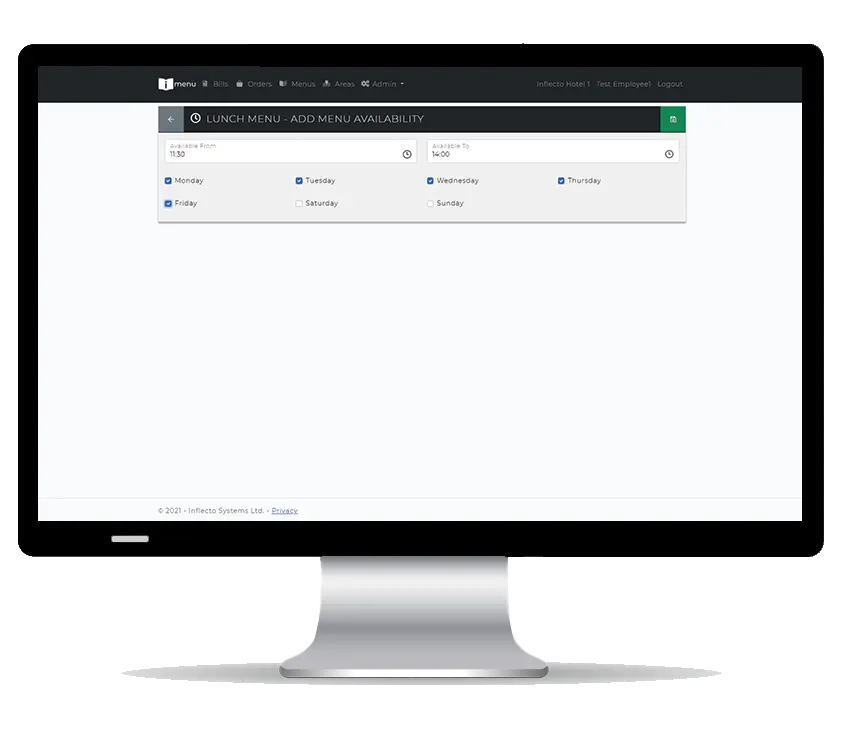 Easy to Setup
Our system keeps screens clear and uncluttered. Our simplified process makes it easy to set up menus, add menu sections and menu items.
We use tags to give you a flexible way to choose key information customers can filter with. Tags can be added to individual items, everything in a section or a whole menu.
Have different menus for certain days or times?
No problem! You can easily pick which menus are available using our availability settings area and I-Menu will show the right menus at the right time.
We work well with any installed networked printers and our experts are on hand to help if needed. We provide a print server application which is easy to install and lets printers link easily with the menu system.
Our receipt template editor lets you choose exactly which printer your bills and receipts go to; allowing you to split entire orders into separate bills that get sent to the relevant areas.
You can make QR code signs in seconds for all your locations in A5 or A6 as portrait or landscape. Further templates can be made upon request.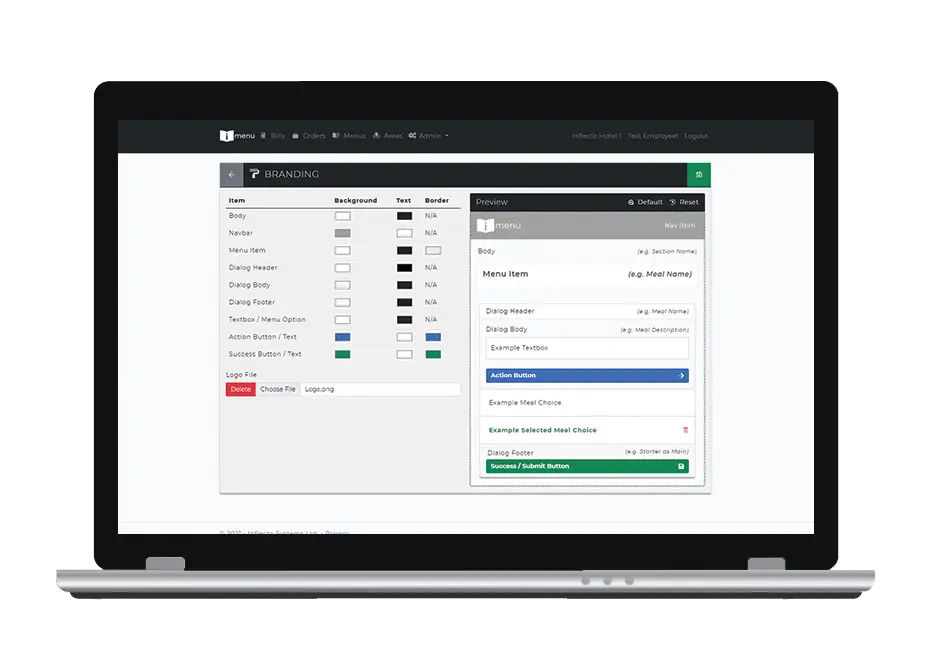 Easy to Brand
The branding section lets you choose the background and foreground colour of every aspect of your menu so it fully matches your brand.
You can quickly revert changes or use our default styles and there is a preview section so you can try out ideas and get creative.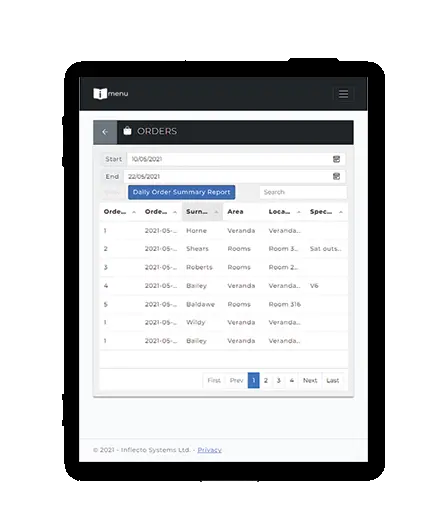 Easy to Manage
In your portal you can see all the orders which come in on screen, filter this list, search for specific orders, or download reports of what's been ordered that day.
You can also view a filterable index of all your bills which are active at any given time. Rows are highlighted when a customer requests their bill so you know at a glance when a customer is ready to pay.
You don't need to keep checking the system because you can set up email notifications for orders and bill requests. With our advanced receipt routing, orders go straight to the kitchen and bar for stress-free billing.
Options like whether customers are automatically emailed their bill or open tabs are closed upon request can be toggled on or off to show how you operate.
You can manage everything from your mobile phone or tablet because we developed our system with a mobile first approach.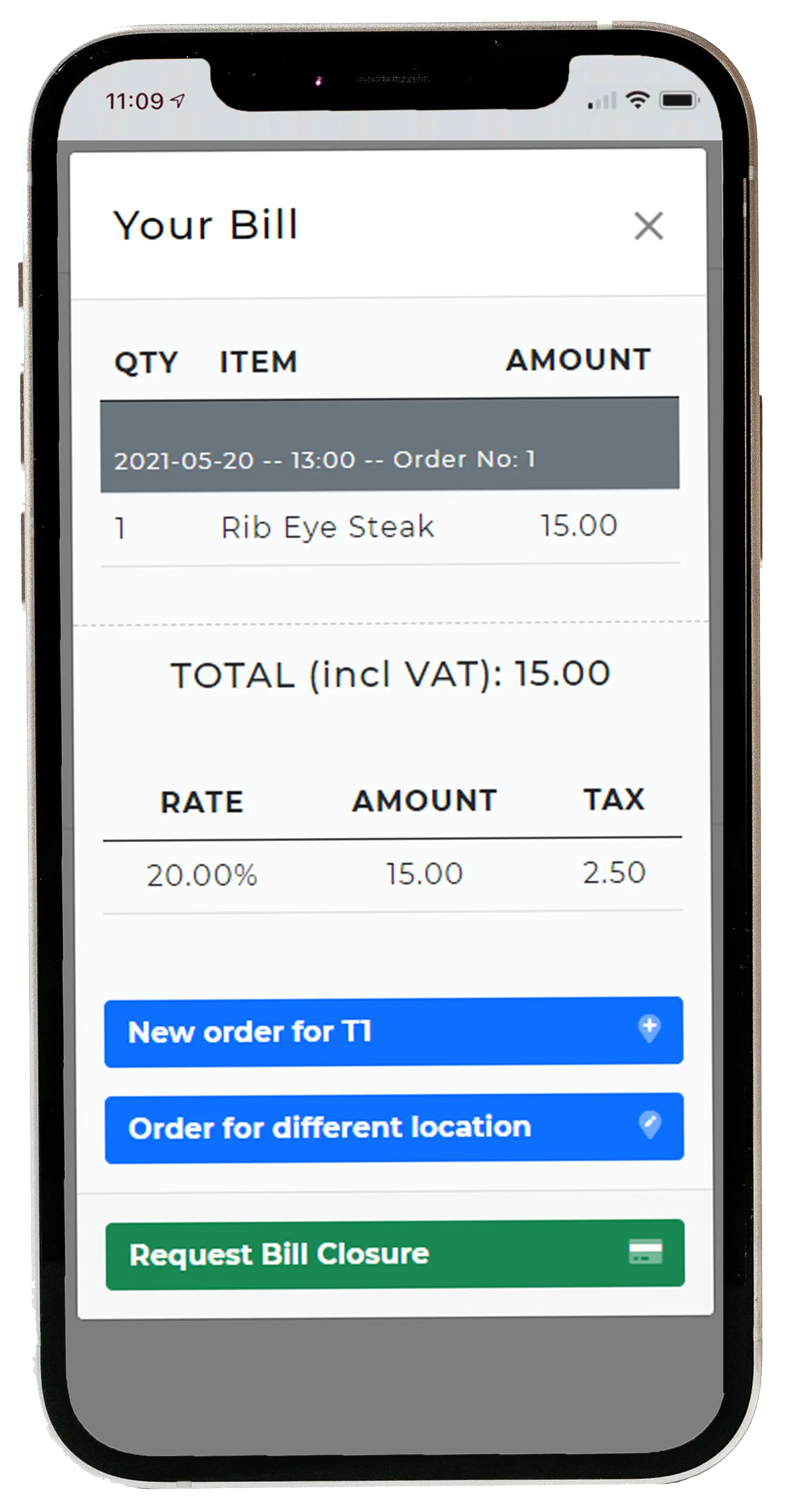 Customer Bills
We make it easy for your customers to open a tab and easy for different orders to be grouped together.
When customers are ready to pay, they simply request to close the tab and a receipt is printed to settle the bill.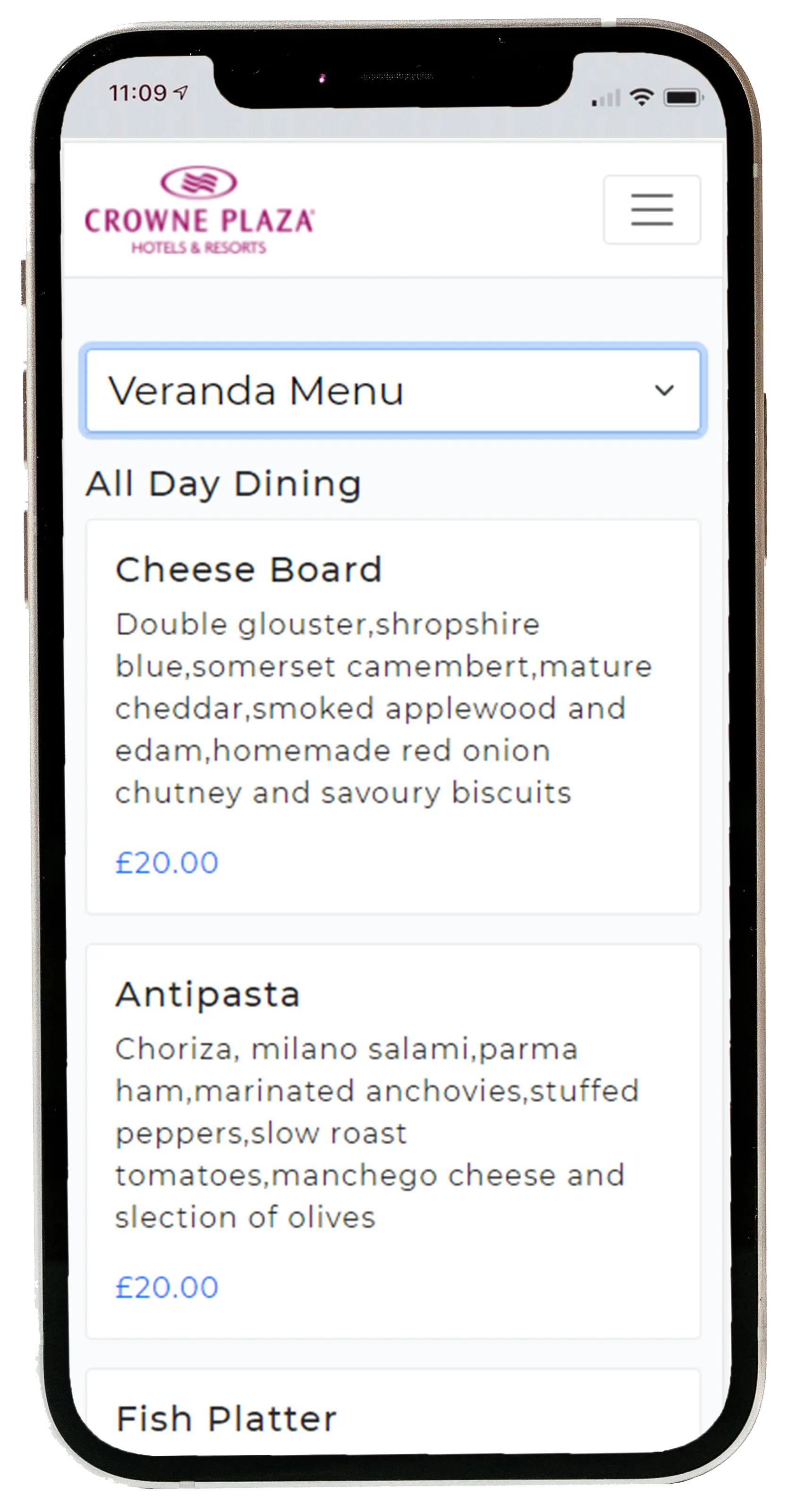 Quick to Access
Our focus is on straightforward menus which are easy to use.
We never show photos here to make sure your menus load quickly.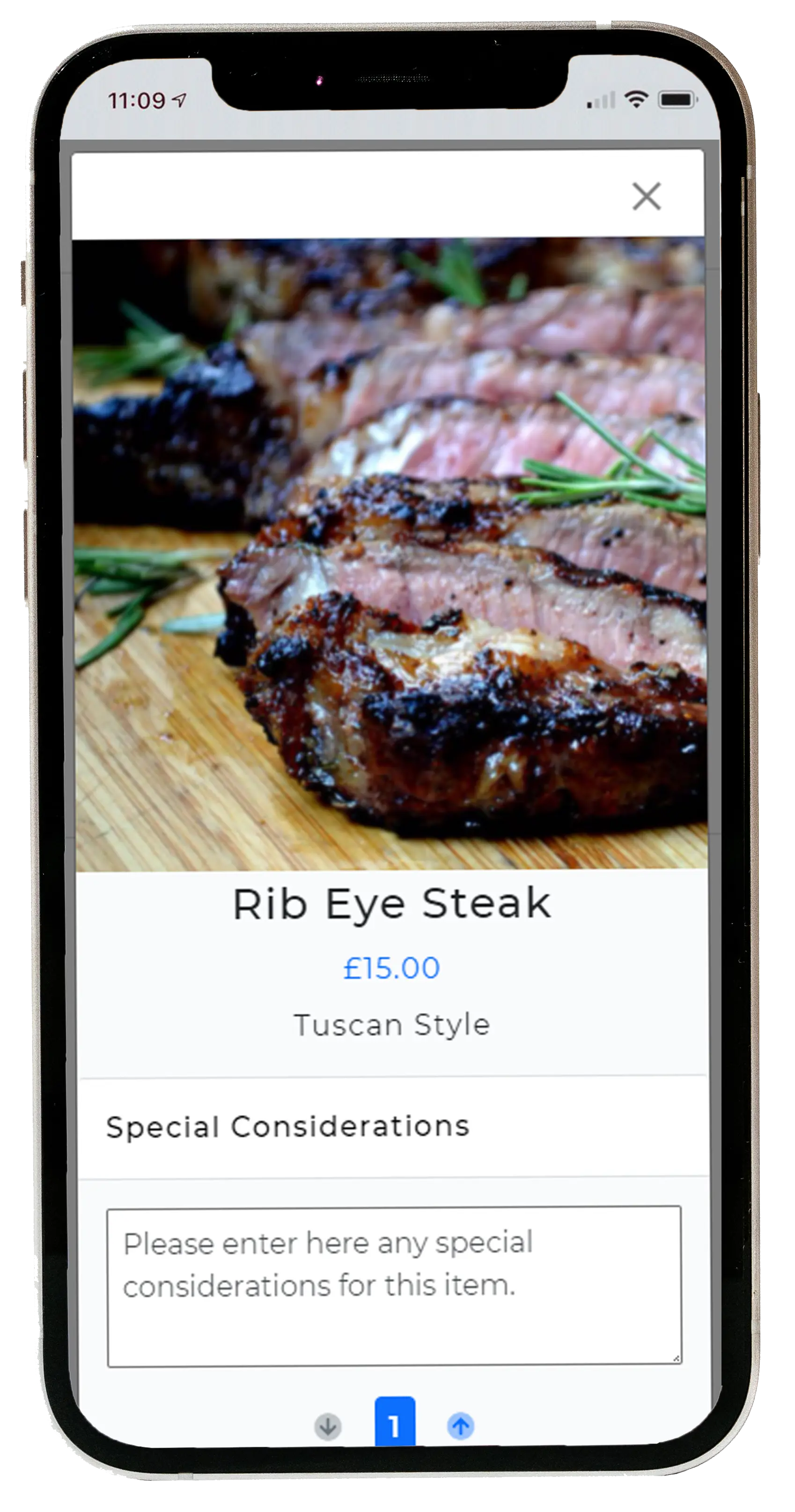 Optional Photos
If you want to amaze customers with great photos, our system will help you crop them to the right size and will automatically optimise each image so they load quickly.
If available, menu item images are shown when a customer views the menu item.
Assisted Setup
During your free trial, send us your menus and we will input them onto the system so your ready to go with the minimum of fuss.
Easy Repeat Ordering
Customers don't need to get their card out for each order, they simply order as much as they want and settle the bill when they're done.
Simple Flat Pricing
Unlike other vendors who take a percentage of everything you earn, we charge a flat fee just for the services you use.
Advanced Receipt Routing
We work well with any networked receipt printers and allow you to split the order and route just what you need, to the right place.
Want the starters and mains printed in the kitchen, drinks printed at the bar and the desserts printed on the pastry chef's printer? With I-Menu you can set this up in a few minutes.
Web-based
No applications to download.
No URLs to type in.
Customers simply scan the QR code to view your menus in their browser and order what they want.
Our prices are designed to be affordable and predictable to help the hospitality industry recover from the pandemic.
| | |
| --- | --- |
| Table Service Module | £40 pcm |
| Room Service Module | £40 pcm |
| Each Connected Printer | £10 pcm |
* Our international pricing differs slightly, please get in touch with our team if you are based outside of the UK.
How much is I-Menu?
We don't believe in taking a percentage of every penny you earn! We charge a flat fee for each enabled module and connected printer. Please see our pricing here.
What modules are available?
We have a module for table service and a module for room service. You can choose either or both and just pay for the service you use.
How do customers pay?
You can decide your available payment methods; whether that's card, cash or billing a room. Your customers choose their preferred method when they set up their bill for their first order. You simply close off the bill and process payment as you have always done in the past.